El Born Centre de Cultura i Memòria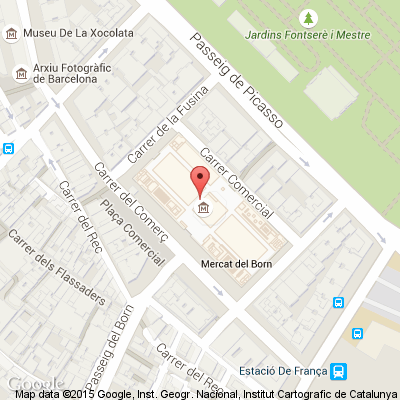 Come and visit us
Timetable
November- February: Tuesday to Sunday, 10 am to 7 pm

March- October:  Tuesday to Sunday, 10 am to 8 pm.

Admission is free during these opening times, via the Plaça Comercial and Carrer Comercial entrances.

November- February: Tuesday to Sunday, 10 am to 7 pm

March- October:  Tuesday to Sunday, 10 am to 8 pm.

An admission charge applies to the exhibition spaces and archaeological site.

Admission to exhibition spaces ends 30 minutes before closing time.

El 300 Food Hall

Tuesday and Wednesday, until 7 pm / Thursday to Saturday, until midnight / Sunday until 8 pm

The Plaça Comercial entrance will remain open between 8 pm and midnight to allow access to the Food Hall.

El Born CCM is closed on Mondays, except for bank holiday Mondays.

El Born CCM will also remain closed on these bank holidays:

1 January, New Year's Day
1 May, International Workers' Day
24 June, Nativity of St. John the Baptist
25 December, Christmas Day

El Born CCM offers open door Sundays as follows:

Every Sunday afternoon, from 3 pm to 8 pm
The first Sunday of every month, from 10 am to 8 pm

El Born CCM also has open door days on the following dates:

10 February (2019), St. Eulalia's Day
18 May, International Museum Day
11 September, National Day of Catalonia
24 September, Day of La Mercè
30 November, St. Andrew's Day (Barcelona city council election day)

On open door days (first Sunday of every month, Sunday afternoons and the five holidays listed above), entry to the exhibition halls is free of charge, although the archaeological site will remain closed.

Audio guides are not available on open door days.
Exhibitions:

General: €3
Reduced: €2.10

Combined ticket (permanent and temporary exhibitions):

General: €4.50
Reduced: €3.15

The centre also offers audio guides to the archaeological site that can be used by visitors seeing the site from the balcony. It also includes information about the permanent exhibition.

For group visits with more than 10 people (schools, organisations, etc.), please contact El Born CCM in advance to make a reservation.

reserveselbornccm@eicub.net

+34 93 256 68 50 (Monday to Friday, 9:30 am to 7 pm).

Reduced entry to exhibitions:

Ages 16-29.
Ages 65 and over.
Unemployed persons or Targeta Rosa
Reduïda (Reduced Pink Card) holders.
Families with up to two accompanying adults. At least one adult must be a parent or legal guardian and at least one family member must be under 16.
Large family card holders.
Single parent family card holders.
Barcelona public library card holders.

Visitors holding tourist bus passes are also entitled to the reduced admission rate to exhibitions of €2.40, via an agreement between the iCUB and tourist bus operating companies.

Free entry to El Born CCM:

Children under 16 and Targeta Rosa
Gratuïta (Free Pink Card) holders.
ICOM and AMC members.
Teachers accredited by their school directors or who are accompanying groups of students.
Passi metropolità d'acompanyant (Disabled person's assistant metropolitan pass) holders
Accredited journalists.
BCN Card holders.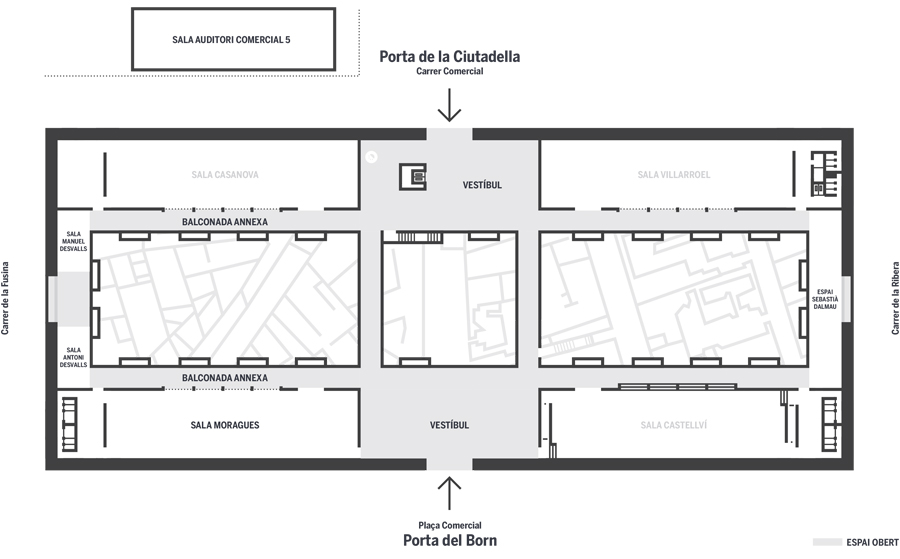 Come and visit us
How to get there
Bus routes
39 Barceloneta – Horta
59 i D20 (parada Pla de Palau)
120 Placeta del Comerç – Mercat de Sant Antoni
H14 Paral·lel / Sant Adrià
H16 (parada Lluís Companys)
Bus Turístic: Stop Pla de Palau

Metro stations

Line 4: Jaume I and Barceloneta
Line 1: Arc de Triomf

Train stations

Estació de França:
R13: Barcelona – Lleida (via Valls)
R14: Barcelona – Lleida (via Tarragona and Reus)
R15: Barcelona – Riba-roja d'Ebre
R16: Barcelona – Tortosa/Ulldecona

Long-distance train lines (arriving and departing)

Arc de Triomf:
R1: L'Hospitalet – Maçanet de la Selva
R3: L'Hospitalet – Vic
R4: Sant Vicenç de Calders – Manresa
R7: L'Hospitalet – Martorell

Car parks in the vicinity of El Born CC

Plaça Comercial, 1
Passeig de Lluís Companys, 21 (access from Arc de Triomf roundabout)
Avinguda del Marquès de l'Argentera, 8-20 (Estació de França public car park)
Avinguda de Francesc Cambó, 10 (access from Via Laietana, Plaça d'Antoni Maura roundabout)

If you drive an adapted vehicle…

Two parking spaces are available for disabled visitors using an adapted vehicle. They are located on Passeig de Picasso with Passatge Mercantil.
These spaces are situated in the lateral driving lane.
If you are arriving by coach…
For groups coming to El Born CC by coach, there is a reserved drop-off and pick-up space on Passeig de Picasso with Carrer de la Fusina. To access this space, coaches must enter the lateral lane from Passeig de Picasso.
Before arriving at El Born CC, please check that your driver knows where to park the coach; if not, please provide them with the pertinent instructions.
The reserved coach space is only for drop-off and pick-up. Parking is not permitted.