MEASURES COVID-19
El Born Centre de Cultura i Memòria opens its doors guaranteeing at all times the application of protection measures. The schedule is from Tuesday to Sunday and holidays, from 10 to 8 pm. On working Mondays the Centre will be closed, and will be held on Sunday afternoons and the first Sunday of each month as an open day (also with prior reservation).
MEASURES AND RECOMMENDATIONS FOR THE VISIT
At El Born CCM we have taken the following MEASURES to ensure that your visit is safe:
We clean spaces frequently, especially items that are available to the public
We have set up different hygiene points with disinfectant gel
We've removed brochures, audio guides, and tactile items and resources. We work to make everything accessible through the Centre's website
We have set up various information and signage points to remind you of the safe visit measures to follow
We have reduced capacity to ensure safe distances
WE REMEMBER and RECOMMEND that:
The use of a mask is mandatory throughout the tour
Keep the tour circuit mandatory
Keep a safe distance of 2 meters with third parties along the entire route and in the rest rooms and avoid forming groups
Wash your hands with disinfectant gel at the entrance to the center and along the route, always before and after touching or operating a door, keypad or other items.
Avoid touching display cases and information panels
When buying tickets, try to pay by card
Follow the information and recommendations of customer service staff
Temporarily, access to El Born CCM will be only through the plaça Comercial and the visit to the Center will be one-way.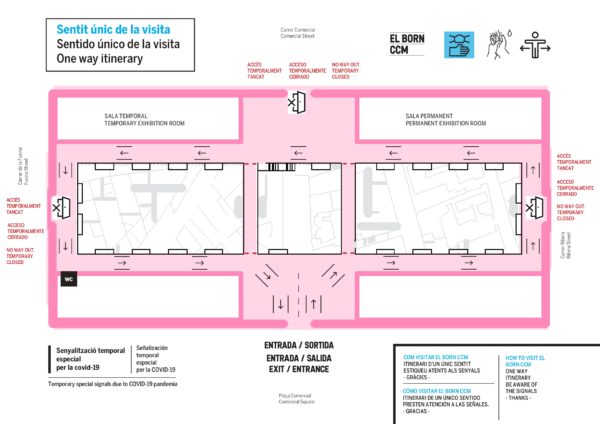 You can consult up-to-date information on Covid-19, tips and recommendations to follow on the website of Barcelona City Council.
Thank you for your collaboration,