Come and visit us
NOTICE
The activity at El Born CCM and its opening times may be affected as a result of prevention measures. Access will be by prior reservation in time slots (unreserved entry will be possible as long as we do not have the full shift at the time of access). That is why it is recommended to buy the ticket in advance. You can make your reservation here.
SPRING – SUMMER
March-October: from Tuesday to Sunday and bank holiday, 10 am to 8 pm.
AUTUMN – WINTER
November-February: from Tuesday to Saturday, 10 am to 7 pm. Sunday and bank holiday, 10 am to 8 pm. On December 26th, open until 2:30 pm.
Admission is free during these opening times. An admission charge applies to the exhibition spaces and archaeological site.
Admission to exhibition spaces and purchase tickets ends 30 minutes before closing time.
Visitors are asked to leave up to 15 minutes before closing time.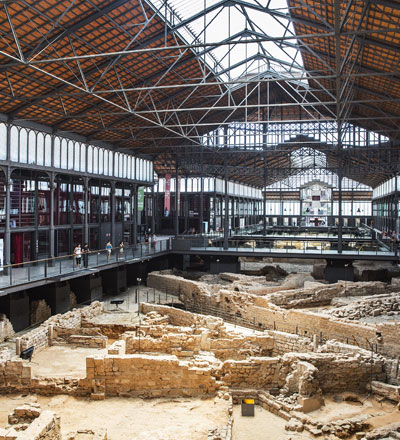 1 January, New Year's Day
1 May, International Workers' Day
24 June, Nativity of St. John the Baptist
25 December, Christmas Day

El Born CCM is closed on Mondays, except for bank holiday Mondays.
On December 26th, the doors will close at 2.30pm.

Every Sunday afternoon, from 3 pm to 8 pm.
The first Sunday of every month, from 10 am to 8 pm.

El Born CCM also has open door days on the following dates:

12 and 13 February (2021), Santa Eulàlia
18 May, International Museum Day
11 September, National Day of Catalonia
24 September, La Mercè

On open door days, entry to the exhibition halls is free of charge, although the archaeological site will remain closed.